About Arthur Door Company
Looking for a better quality garage door? How about a better garage door repair service with knowledgeable technicians? Then Arthur Door company Incorporated is the right choice.
Since 1952 Arthur Door Company has offered our customers the finest quality garage door, garage openers and garage door repair service that is available. Our knowledgeable sales staff and installation technicians consult with you to determine which garage door or service is right for you. Your garage door is one of the most important doors for your life and your business. You can trust Arthur doors for garage door installation and garage door repairs.
Review our beautiful collection of reliable and masterfully built residential Garage Doors. Our Strong and Masterfully built Commercial doors and our impressive industrial garage Doors. After you picked the garage door that is right for you, Arthur Doors expert garage door installers will review everything with you and install your garage door with the attention that you desrve so that your garge door works the first time and every time from that day forward.
Should you ever need a garage door repair, Arthur doors garage door repair service provides outstanding garage door service. We are fast, reliable and local. Businesses and homes throughout South Jersey call to get their garage doors repaired the first time. Arthur' Commercial and Residential Garage Service can reduce your repair cost by doing the right job the first time and by eliminating repeat calls.
Arthur Door Company provide the finest garage doors, service and installation available.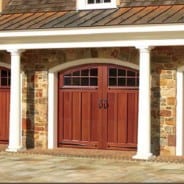 Nothing quite compares to the warmth and beauty of a well-crafted wood carriage garage door. Artisan's Medallion series – known for its signature series of custom doors – has been expanded to include standard door options that provide more affordability without compromising quality. Learn more about the three series below.   Please click here to download the Medallion...
read more